Perhaps the most well-known flower essence combination is the Bach 5-Flower Formula (previously known as Rescue Remedy). This essence is widely available in the UK from chemists and natural health stores, and is often the first introduction to using flower essences. As the name suggests this combination is used to treat the initial stages of shock, fright, fear and intense nerves, for which it is brilliant. However, sadly many continue to use it after the 'event' when other flower and vibrational essences would be better suited. I feel that often people create the belief that essences don't work because they are using the 5-flower remedy in the wrong circumstances.
Here I will introduce you to the 'emergency essences' from the Alaskan, Australian Bush, Indigo and Wild Earth Animal ranges. I will also talk about creating bespoke essence combinations, which can be tailored to continue working after the initial emergency requirement.
Alaskan Essences
The Alaskan range of essences were created by Steve Johnson (who sadly passed away in 2017) but are still being produced by his wife Judith Poelerands and the team at Alaskan Essences in the untouched wilderness area of Alaska. This range has three essence combinations that I often turn to when clients need this type of support – Calling All Angels, Guardian and Soul Support, though it is the latter (Soul Support) that is the official 'emergency formula' of the range. I often find these combinations coming together either in pairs or all three together for clients when a very gentle touch is required.
Soul Support bestows stability and strength in any form of emergency, enabling balance to be restored on all levels. The combination is suggested for use in the following situations: accidents; emotional catharsis and violent outbursts; fear of flying; motion sickness; before, during and after visits to the dentist; after receiving bad news; after a fight, argument or disagreement; divorce, job changes and moving to a new place; post-traumatic stress; before and immediately after surgery and during recovery; abrupt and/or major changes in plans; in an animal shelter and for wild animal rescue and rehabilitation work; for any transition, challenge, or initiation.
Calling All Angels quite literally does what it says on the tin – enabling you to connect with the angelic realm for guidance and protection; bringing soft, serene, loving energy into the heart, body and surrounding environment.
Guardian is an excellent combination to help create healthy boundaries; it helps us stay grounded and feel that we are standing in our own energetic space.
Australian Bush Essences
These essences are created in Australia by Ian White. The Emergency Essence (as does the whole range) feels to me like a very robust formula (similar to the Bach 5-Flower Formula) providing no-nonsense support. If I were to carry an off-the-shelf emergency essence in my handbag or car it would be a choice of one of those two because I am a no-nonsense get-on-with-it type of person. The description says it helps ease distress, panic and fear in an acute situation, and will give comfort, calm and a greater ability to cope in stressful circumstances. If a person needs specialised medical help, this essence will provide emotional comfort until treatment is available.
Indigo Essences
This range is created in Ireland by Ann Callaghan from the positive energy of gems, and provides support for children and the adult inner child. The Works is the 'emergency remedy' of the Indigo Essences range, it will help you to know that you are loved and that the help you need will come, providing strength when you don't really know what is wrong. This essence relates more to existential despair than the others that I have listed.
Wild Earth Animal Essences
The emergency combination from the Wild Earth Animal range is called Saved by the Animals. This range of essences is created in ceremonial processes by Daniel Maple in Virginia. Daniel connects shamanically with the spirit of the animal, and the animal's positive energy is then stored in water as a vibrational essence; no animals are used or harmed in the process. Saved by the Animals is a combination of Dove, Turtle, Buffalo, Eagle and Elephant, providing deep grounding, protection and spiritual connectedness in times of emergency. For physical, emotional and spiritual crisis it enables you to stay safe, centred and able to respond.
If you feel drawn to purchasing any of the above essences or would like to know more about them, they are available from Healthlines.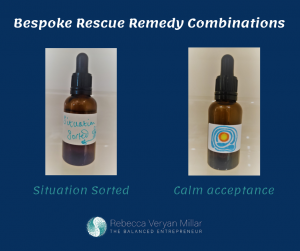 Bespoke emergency combinations
I love working with essences and have collected many from a diverse number of ranges, as well as creating a few of my own. So when I sit down to create a bespoke combination for a client, I know that I can put just the right blend together.
To create a bespoke emergency combination, I will need to consult with the client. Sometimes we work on dealing with the presenting emotions, other times we pull together the negative words to describe how the client feels in an emergency, these are flipped to the positive, from which I then create the combination.
My personal emergency remedy
My personal emergency remedy is called 'Situation Sorted' and was created by flipping my negative feelings to positive. The negative list of words were overwhelmed, panicky, breathless, energy trapped in chest, unable to think clearly. The positive list were calm, clear headed and confident. The resulting combination contains Bach Agrimony for calm, Bach Cerato for confidence and decisiveness, Bach Gentian for confidence and perseverance, Bach Star of Bethlehem for calm and to help cope with shock, MoonFlower Silver for calm and protection, Moonflower Gold for grounding, courage, strength and self-worth, and Spirit in Nature Tomato for mental strength, endurance, courage and self-belief. So as you can see, my combination covers all of my personal emergency eventuality requirements, and I always have a bottle in my car and my bag.
An emergency service!
I was recently asked to make a remedy in an emergency! The client had spoken about coming to see me once her child had started university because she felt that this was going to be a big step in her own life. However, she hadn't foreseen the emotions that would come up about dropping all her belongings to the halls of residence. She wrote 'I am wondering if there was something you could make up for me to use as a bit of first aid for that separation moment?'
We created a combination that was to be used at the time and also to support her afterwards (as I felt it might take a little longer than she envisaged for her to book her session). The main feeling the combination was required to bestow was calm acceptance, which was quite a tall order at such short notice. However, I was delighted to receive this message the following day – 'I'm safely back in one piece from my trip to the city, and though knackered, I am feeling surprisingly fine. I used my flower combination spritz and drops liberally throughout the day, and although driving was hot, busy and stressful, my parting felt sad but manageable! My daughter also seems to be fine (must have been all that spritzing in the car!) and I am now feeling the 'calm acceptance' I was seeking. I really think it made a difference to the whole experience.'
---
I help women to reconnect with their true sense of self, after a lifetime of trying to be 'everything' for everyone else.

If you would like to know more about how I can help you release your fears, please book a complimentary Clarity Call, the link to my diary is here.