As I write this blog, Devon is bathed in beautiful late autumn sunshine.  The sky is clear and crisp, but with temperatures of just above zero this morning. I love this time of year as it is my final chance to top up on much needed light. This is so important to me because I suffer from SAD (seasonal affective disorder) otherwise known as the winter blues. I think that most people living with predominantly overcast skies/rain for extended periods suffer from the winter blues in varying degrees. Personally, I find that I just want to hibernate aka take to my bed and sleep, sleep, sleep. However, traditions have turned the darkest part of the year into lengthy celebration times. Expectations of me to be present when my body just wants to stop, withdraw from the world, be quiet and reflect internally.
As a single mum who quietly follows the seasons rather than celebrating religious festivals I find the whole Christmas thing very painful. In addition, I have a child's birthday 5 weeks prior and 1-week post-Christmas, which increases my sense of overwhelm and disillusionment with modern society's slavery to the marketing man. This is the tipping point for me as we are at the darkest part of the year and the rain will have set in where I live.
Nature to the Rescue
Of course, the best way of beating the winter blues is to get out in nature, even if the weather is inclement, for fresh air and movement will do the power of good. My dogs make sure that I venture out at least twice a day and though I may grumble about water drenched coats upon our return, I always feel better in myself.
Eating locally grown seasonal food (organic if possible) helps boost the immune system by keeping the body balanced with the complete nutrients of foods picked when ripe. I was very lucky to have a veggie growing dad and we ate fresh home grown all year round. Admittedly as a child I may have become a tad bored of eating the same vegetable for weeks on end if that was all that was available, but as an adult I now appreciate the difference in taste of fresh from the garden to artificially ripened and packaged store-bought veg. I try to buy veg from our local market, supporting local growers and reducing the carbon foot-print of my food.
I am a great believer in the power of elderberry syrup, old-fashioned I know, but still does the trick of keeping colds at bay. The birds will have had the elderberries by now in the UK as the bounteous harvest ripens mid-August to September, but it is still possible to purchase elderberry syrup from health food stores.

Help from Flower and Vibrational Essences
Flower and vibrational essences can also help reduce the emotional symptoms of winter blues. Four specific essences for SAD are Alaskan Lighten Up, FES Saint John's Wort, Earthsong Mistletoe and New Light Bowl of Light from my own range. All four essences enable the body to properly utilise available light. Personally I have worked extensively with Worlds within Worlds and Mistletoe and have found them excellent for this purpose.
New Light 'Worlds within Worlds' was created at the summer solstice of 2016 and is all about Light; how we receive, process and ground it. My initial experience of working with the essence was that I created a bowl of sparkling Light in the area of my upper heart chakra. I developed (and still do) a ritual of consciously topping up my bowl of Light with the morning sun which enables me to carry enough Light for myself and to share with others.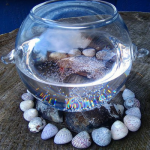 I was recently given this fantastic testimonial for Worlds within Worlds – For many years when the nights started drawing in and the clocks went back I suffered from low moods and felt a bit depressed. There was nothing happening in my life that I could complain about and I came to the conclusion that it was winter approaching, less light and less sunshine that affected me. I took many flower essences to try and help with this and then came across Rebecca's Worlds Within Worlds which changed everything for me. I took it for about a month a couple of years ago and haven't had the dip in my moods around October time since…. I'm so happy!!
Click here to purchase New Light 'Bowl of Light' essence
If you would like to create a bespoke essence combination to help you clear the negative emotional aspects of the winter blues, please email me at hello@rebeccaveryanmillar.com  I look forward to connecting with you.